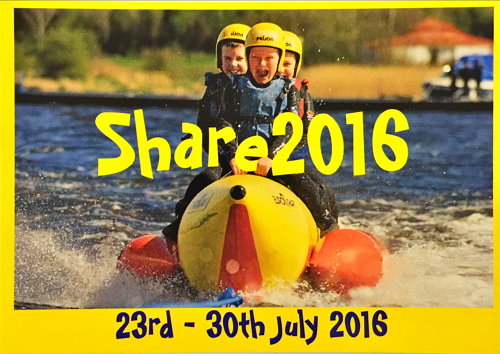 Senior Camp – 2nd of July 2016
Talks
Speaker: Rev Knox Hyndman
Theme: "Ending the long silence" – John the Baptist introduces the Saviour"
SHARE Activities
Activities run by the SHARE centre and which we hope to use in the afternoons from Monday to Friday will range from a combination of WATER, LAND and ARTS, e.g.
WATER LAND ARTS
Canoeing, Archery, Pottery
Kayaking, Mountain, Biking, Balloon, Modelling
Dingy, Sailing, Pedal, Go- Mosaics
Keelboat Sailing, Bush & Camp, Film Making
Windsurfing, Combat Corps, Circus Skills, Boat Trips
It goes without saying that activities are not mandatory. Day visitors will have to pre-book and pay for activities they wish to participate in.   All SHARE activities are led by qualified and experienced members of staff in each discipline. Share Village is suited throughout to wheelchair users.