Reformed Theological College
Home
Reformed Theological College
Reformed Theological College
The role of the Reformed Theological College is to train men, having been called by God, for the gospel ministry. The course is three years and is based in purpose built facilities at 35 Knockbracken Road, Belfast, Northern Ireland.
COLLEGE EVENTS 2017/2018 TERM
Autumn Term:  3th October  – 15th December 2017
Student Preaching:  Tuesday 2nd January 2018 (Clare RPC @ 8.00pm)  and
Thursday 4th January 2018  (Limavady RPC @ 8.00pm)
Spring Term:  2nd January – 19th April 2018
College Closing: 19th April 2018 @ 8.00pm in Knockbracken RPC  (Lecture by Moderator Dr Norris Wilson)
Entry Requirements
The normal entry requirements are a college degree but in certain cirmcumstances this can be waived by Synod.
The college's intake is every three years, the next being September 2018.
Procedures for student intake for academic year 2018
RP members should contact their minister and session
Guest students should apply to:
College Secretary: Rev John Hawthorne
Financial Arrangements
If you are a student from the Reformed Presbyterian Church you will receive a grant, have your fees paid and receive renumeration for placement. As you are under the care of presbytery they will be responsible for you.
Students from other denominations are welcome but will need to make their own financial arrangements.
Contact Details
College Secretary Rev John Hawthorne
'Eden Green', 30 Shannaghan Lane, Ballyward. Co. Down BT31 9FD
Telephone: 028 4067 1414
Email:  carolinehawthorne290@hotmail.com
More details on the college and the course are available in the prospectus.
Talks from the 'Ministering for the Master' day conference organised by the Reformed Theological College are also available.
---
LUTHER-THE MAN AND HIS MESSAGE CONFERENCE CULLYBACKEY 31st OCTOBER 2017
Click title to download individual file
1. Rev. K. Hyndman – Luther's Life & Ministry
2. Prof. D. McKay – Luther's rediscovery of Justification by Faith
3. Rev. A. Kerr – Luther and the Scriptures
4. Prof. N. Wilson – Luther and the Psalter
5. Prof. R. McCollum – Luther and Prayer
6. Rev Kenneth Stewart Luther and the Gospel Phil.3;1-11
Zip file containing all files download HERE
2017 REFORMED THEOLOGICAL JOURNAL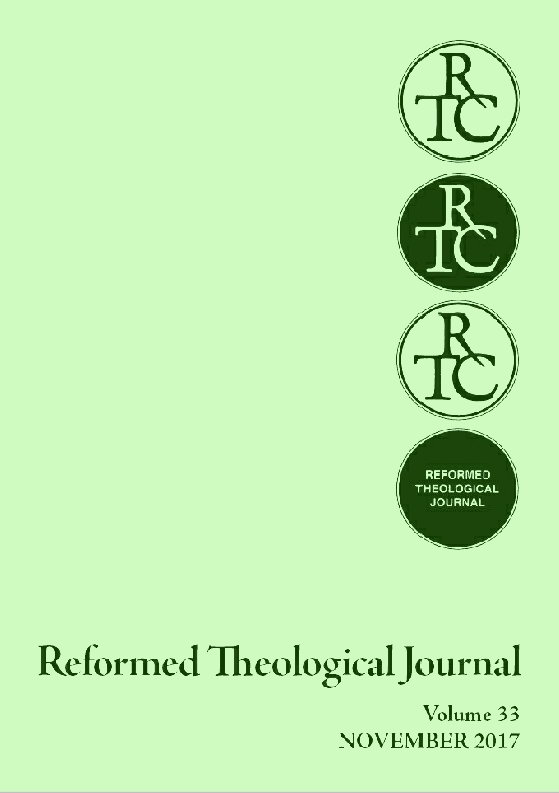 CONTENTS
MARTIN LUTHER: HIS LIFE AND WORK
by Gareth Burke
FIVE TRUTHS THAT SHOOK THE WORLD
by David McKay
CIVIL DISOBEDIENCE
by Norris Wilson
ROMANS 7 REVISITED
An exegesis and interpretation of Romans 7:7-25
by Kenneth Stewart
TELLING TALES
A Survey of Scottish Covenanter Historiography
by David G. Whitla
THE RELEVANCE OF JOHN OWEN FOR PASTORS TODAY
by David Luke
The Journal can be downloaded here free as a zip file in 3 formats, mobi(Kindle), epub(e-readers)and pdf
or here as pdf only
2016 REFORMED THEOLOGICAL JOURNAL
CONTENTS
INFANT BAPTISM AS A MEANS OF GRACE
by Robert L. W. McCollum
PREPARING TO PREACH ISAIAH
by Andrew Kerr
REPLACEMENT THEOLOGY?
by Jonathan McCollum
NOT REFORMED AND NOT SAFE:
A SUMMARY CRITIQUE OF PAEDOCOMMUNION
by William M. Schweitzer
JEREMIAH BURROUGHS
ON THE INFINITE EXCELLENCY OF GOD
by Jim Davison
Reformed Theological Journal
The Reformed Theological Journal is the publication of the Faculty of the Reformed Theological College and is published in November each year.
The Faculty is offering the Journal as a digital download in different formats free of charge.
Reformed Theological Journal .pdf format
Reformed Theological Journal, Kindle (.mobi), ebook (.epub), & pdf in one zip file
Reformed Theological Journal Contents Vol. 1-30. 1985-2013
Reformed Theological Journal Index Vol. 1-30. 1985-2013
Print copies of most previous volumes of RTJ are available for purchase. Contact the Covenanter Book Centre