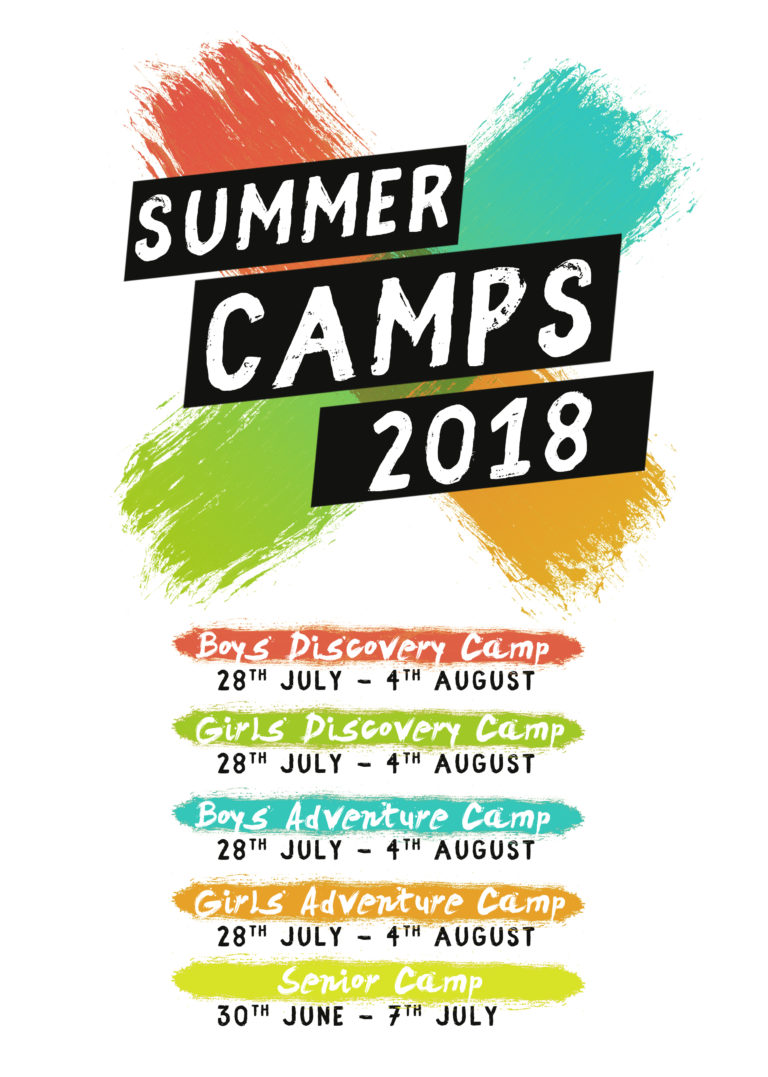 Girls Discovery – 16-18 February 2018.
Girls Adventure – 26-28 January 2018.
Boys Discovery – 19-21 January 2018.
Boys Adventure – 26-28 January 2018.
Senior Camp –  9-11 February 2018. 
Reformed Presbyterian Camps
Providing enjoyable and worthwhile holidays for children and young people
Our camps are planned for children and young people within and outside the Reformed Presbyterian Church family. The holidays are structured and led by committed Christians who are keen to share their faith. A part of these camps is therefore organised with a view to helping those who attend to grow in their understanding of Christian belief and practice.
Available soon Summer Camps 2018 Form
Girls' Discovery Camp
28th July to 4th August 2018
GDC is a one week camp for 10-12 year old girls. We enjoy a fun filled week every summer, packed with opportunities to learn more from God's word through squad discussions, talk times and missionary visitors! We also get stuck into loads of exciting activities like crafts, water sports, pony trekking, dancing, messy games, beach trips, camp fires, baking, learning silly songs, game show nights, dressing up, day trips away, carnival days, segwaying, mini zorbing, llama trekking and high ropes challenges!
There's something for everyone and we'd love you to join us!
Boys' Discovery Camp
28th July to 4th August 2018
If you are over 10 on 1st July and love football, cricket, waterfights, gameshows, food, swimming, team challenges, crafts, table-tennis, watersports, books, tuck shops, movies and lots more, then you will love Boys' Discovery Camp.
Not only do we 'discover' all these fun activities, but we'll discover more about God's teaching in the Bible through our talks, worship and discussion times. Come along and discover what all the fuss is about at Boy's Discovery Camp!
Girls' Adventure Camp
28th July to 4th August 2018
Every year, around 50 girls aged 13-15 gather together for Girls' Adventure Camp. It is a frantic mix of games, crafts, drama, quizzes, challenges and most importantly, Biblical truth.
We asked some girls who have been at GAC what they think of it. Here are some of their answers –
"My favourite part of GAC is the fellowship you get with lots of girls your own age. You can relate to each other with the same thoughts, struggles and feelings."
"I really enjoyed my three years of Adventure Camp and I'm really going to miss it! I have amazing memories from camp talks, squad challenges and squad discussions that I will never forget."
Boys' Adventure Camp
28th July to 4th August 2018

Boys' Adventure Camp is a week which aims to deliver what it describes…Its Adventurous and its for Boys! The week includes sports, bible study, outdoor pursuits, discussion times, team games, meeting new people and finished off by leaving with friends.
Learn more about God and living as a Christian with other boys who a growing into men.
Senior Camp
Dates: Saturday 30th June 2018 to 7th July 2018

Venue: The Royal School, Armagh

Age: 16+

Cost: £TBA
email: senior.camp@rpc.org