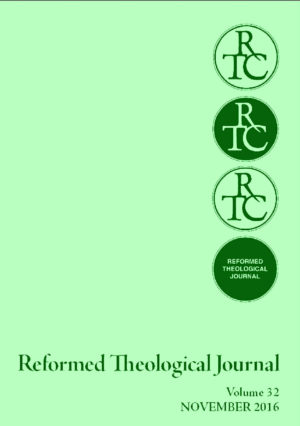 REFORMED THEOLOGICAL JOURNAL
November 5, 2016
Web Admin
Reformed Theological Journal  Vol 32 November 2016
The Reformed Theological Journal is the publication of the Faculty of the Reformed Theological College and is published in November each year.
The Faculty is offering the Journal as a digital download in different formats free of charge.
CONTENTS
INFANT BAPTISM AS A MEANS OF GRACE
by Robert L. W. McCollum
PREPARING TO PREACH ISAIAH
by Andrew Kerr
REPLACEMENT THEOLOGY?
by Jonathan McCollum
NOT REFORMED AND NOT SAFE:
A SUMMARY CRITIQUE OF PAEDOCOMMUNION
by William M. Schweitzer
JEREMIAH BURROUGHS
ON THE INFINITE EXCELLENCY OF GOD
AVAILABLE AS A FREE DIGITAL DOWNLOAD IN pdf-kindle & epub formats
You may also like